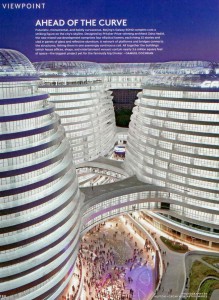 One of the inspirations for me as a designer is the work of my heros, remember heros, those people who show us the way forward even when it seems very beak just before the dawn?  Well I have three or four or five living heros, Santiago Calatrava, Phillip Stark, Marcel Wanders, Frank Gehry and Zaha Hadid.
I made a pilgrimage to NYC just to see the sculptures of the architect Santiago Calatrava at the Metroploitan Museum a few years ago. The one room exhibit was worth the trip from the west coast of Canada.  He is an architect / artist / designer who I feel, rewrote the rulebook for architecture for the 21st century.  Then on a bounce back trip to New York with my partner Anita to show her art work around the galleries we were thrilled to find a sculpture exhibition in an avant garde gallery by the fabulous architect / artist Zaha Hadid.
I've met Phillip Stark in London, who like me is a hospitality industry type and I love all of his work, and my partner and I have been to the store in Amsterdam that first showed the work of Marcel Wanders.  It is satisfying to have something to appreciate in this world of sameness and conformity.  As an antidote to the sameness of things, try a walk about of the LA Philharmonic building by Frank Gehry and then think about the other buildings you experience daily.
Anyway the point of this article is that this image is not a Ridley Scott movie blue screen computer generated fantasy, it is a real building complex in China by the ever creative Zaha Hadid.  Those are people.  The future is actually here today.  Enjoy it.
https://www.jcscott.com/wp-content/uploads/2013/07/Zaha1-1.jpg
1564
1143
JC Scott
https://www.jcscott.com/wp-content/uploads/2014/02/logo3.png
JC Scott
2013-07-15 04:20:48
2017-06-05 17:23:47
IMAGINATION