Sports and Health
Golf
As Vancouver Island's most experienced clubhouse designer, JC Scott is very aware of the challenges that golf has faced recently.  From time challenged millennials, to the most recent Covid-19 closures, clubhouses have been exposed to the biggest downturns in memory. However the tide is turning for some courses and clubhouses and an experienced consultant can help make a difference to your turn-around.  Through successful clubhouse design for both green-fee and private membership golf clubs, and with a related career in resort and hospitality interior design, JC Scott has acquired an unsurpassed level of clubhouse and hospitality design experience for Vancouver Island. Providing over a dozen island clubhouses with hospitality planning and interior design services, demonstrates the unequalled depth of JC Scott's experience specific to golf clubhouse design.
JC Scott eco Design Associates has the largest portfolio of renovated and built from scratch clubhouses on Vancouver Island. Call us for a tour of any private club you may wish to tour.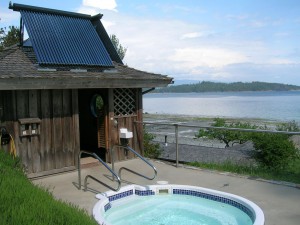 Pool & Spa
For this specialized category, JC Scott provides everything from fully detailed 3D design to the project management level of installation supervision that is required for swimming pools, spas & wellness facilities due the level of detail involved.  He has a longstanding personal commitment to healthy living and the west coast wellness movement.  The environments created encompass the full spectrum of relaxation, fitness and healing properties.  From indoor exercise pools to commercial facilities and large indoor pools, experience and rigorous attention to detail, makes for a better finished project.  Major pool projects have included Shoal Point, The Royal Scot Inn, Painters Lodge, Hollyhock outdoor spas, the former Queen Victoria Hotel pool and many private swimming pools, steam rooms and fitness facilities.
Recent pools include a 50 foot outdoor swimming pool that looks like a natural pond complete with a waterfall from an existing cliff, working with aquarium builders on concrete work so realistic that the connections to the real rock are almost invisible. A second pool acts as a reflecting pool for the grandmother who requested it with a seating bench all round on her patio but it is a full swimming pool for her daughter's children, and it's on a cliff.
Recreational  
Recreational design has always been a focus at JC Scott eco Design Associates Inc.  Projects where people can play, relax and enjoy the natural environment stimulate our creativity and the results are self evident.  'Re-defining Tradition' has been JC's mission statement for recreation and resort design and we have led the movement on the West Coast toward eco and adventure-tourism. Not to be overlooked in recreation is also the emerging wine and culinary tourism sector.   JC served on the board of Tourism Victoria, elected by industry peers as the Arts and Culture Representative. Today, breweries, distilleries, wineries and even cannabis retailing is in our portfolio.
From Painters Lodge at Campbell River evolving into an eco resort and arts center from what was one a world famous fishing resort to April Point on Quadra Island now housing a Japanese inspired spa where fishing was once the only activity, JC Scott has helped inspire a changing resort climate in BC.  Further afield, The Cape Santa Maria Beach Resort in the Bahamas set a new standard for resort design that country and Loreto Bay in the Baja was planned as the world's foremost eco resort community.  Economics have slowed that project but it remains a model walkable and livable resort community.  Across much of Vancouver Island, JC Scott designed recreational projects have set new benchmarks, from golf to fishing, from eco and adventure tourism to wine and culinary tourism.  Ask us how this extensive portfolio could benefit your project.